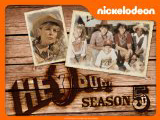 The fifth and final season of the Hey Dude TV series began airing on June 6, 1991, on the Nickelodeon television network, and concluded its initial airing on August 30, 1991 with 13 episodes.
Overview
Season 5 started airing about six months after the end of season 4 which was the longest break between to seasons of Hey Dude. Among others, Melody becomes obsessed with a beauty contest, Ted mysteriously begins shrinking, Kyle and Ted get lost in the desert and Jake gets threatened by a wild guest. The season - and thus the series - ends with a catch-the-flag game between the "veteran" staff members Ted, Melody and Danny aand the "newcomers" Brad, Jake and Kyle.
Cast
In season 5, the same nine main characters as in season 4 appeared. They were portrayed by the following regular cast members:
Episodes
The following lists introduces the individual episodes of season 5 with a short summary. For details such as the writer(s) and director(s) of the episodes and their original air date on Nickelodeon see "Episodes".
No.
Image
Title
Summary
53
5x01
Miss Tucson
Melody's obsession with a beauty pageant reveals some secrets from her past. Brad's generosity helps her realize that winning the pageant isn't important.
54
5x02
The Legend of Jed
The kids invent an imaginary worker on the ranch to take the blame for Jake's errors and keep him from getting fired. Jake also has his hands full with a ventriloquist dummy.
55
5x03
Incredible Shrinking Ted
The kids pay back practical joker Ted by convincing him that he is shrinking.
56
5x04
Rest in Pieces
The kids mistakenly believe that Mr. Ernst is dying and do everything they can to keep him awake.
57
5x05
Baby
The kids decide they can manage to care for a baby left behind on the ranch until the mother returns but have to keep it a secret from Mr. Ernst who doesn't approve.
58
5x06
Jealous Guy
Rivals Ted and Kyle spend a hellish day out in the desert where, one crippled and one blind, they must rely on each other to get back to the ranch. Still, they arrive in time to rescue Brad from a less than chivalrous date.
59
5x07
Amnesia
A bump on the head convinces Mr. Ernst that he's a seventeen year old named T-Bone while a juvenile employment inspector tries to close down the Bar None.
60
5x08
Presumed Stupid
Circumstantial evidence leads the kids to think Ted stole money from Brad. Jake and Buddy use Sherlock Holmes type logic to get to the bottom of it.
61
5x09
Crush
Buddy falls in love with Melody. Ted and Brad put aside their vanity on a dare.
62
5x10
Low Budget Brad
Brad finds out how the "other half" lives when her father loses his job. Jake tries to make a "Rich & Famous" video for the Bar None.
63
5x11
Jake's Fight
Jake has to confront a bully as others try to teach him to stick up for himself.
64
5x12
Double Date
Jealous of the relationship between Brad and Kyle, Ted asks Melody out in an attempt to make Brad jealous. All four end up going out together on a double date.
65
5x13
War
A capture the flag game pits the new kids against the veterans during a night interrupted by a sleepwalking Mr. Ernst
Publication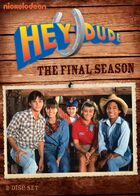 Season 5 was released on DVD by Shout! Factory on July 16, 2013 with the title Hey Dude - The Final Season. It was first first published as a Shout! Select title which could only be purchased at the Shout! Factory's website, but later became available from other sources, too.
External links