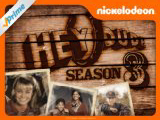 The third season of the Hey Dude TV series began airing on April 6, 1990, on the Nickelodeon television network, and concluded its initial airing on June 29, 1990 with 13 episodes.
Overview
Season 3 started airing a bit less than two months after the end of season 2. Among others, the season includes a TV game show audition, a battle with rival Snake Eyes Ranch, a visit from Melody's troubled brother and an encounter with professional wrestler Lou Albano. Ted went away to summer school, and his place was taken over by Jake, a nephew of Mr. Ernst.
Cast
Season 3 started with the same seven main characters that had already appeared in seasons 1 and 2. David Lascher left the show during the season to film another TV series. Instead, Jonathan Galkin joined the show. The main characters of season 3 were portrayed by the following regular cast members:
In the last episode, Geoffrey Coy, who in seasons 4 and 5 became a regular cast member, made a guest appearance as Kyle. Thus, season 3 was the first season in which all of the nine main characters of the Hey Dude TV series appeared.
Episodes
The following lists introduces the individual episodes of season 3 with a short summary. For details such as the writer(s) and director(s) of the episodes and their original air date on Nickelodeon see "Episodes".
No.
Image
Title
Summary
27
3x01
Inmates Run the Asylum
When Mr. Ernst leaves the Bar None and places Ted in charge, he goes power crazy and drives everyone else nuts.
28
3x02
Hey Cinderella
When a handsome guest visits the Bar None, Melody pretends to be something she's not - Brad.
29
3x03
Datenite
Ted gets a letter and his refusal to tell the others what is in it makes Danny, Melody and Buddy determined to find out what is in it. Also, after goading from Danny, Ted asks Brad out on a date, and is surprised when she agrees.
30
3x04
New Kid on the Block
Mr. Ernst's problem nephew, Jake, becomes the new dude at the Bar None.
31
3x05
Sewn at the Hip
Melody finds out that things do change when her long time best friend comes to visit the Bar None.
32
3x06
Superstition
When the kids at the Bar None ask Jake to try out for a TV game show, he finds out that his silly superstitions stand in his way.
33
3x07
Dueling Ranches
A rival ranch (Snake Eyes Ranch) challenges the Bar None to a baseball game for the water rights.
34
3x08
Ex-Static
Buddy hopes that he can mend his parents separation and reunite their family, but he discovers that all are happier with things as they are now.
35
3x09
No More Mr. Nice Guy
When Melody gets tired of always being helpful, she decides to go on strike.
36
3x10
Killer Ernst
Mr. Ernst becomes a professional wrestler when he takes on Captain Lou Albano to keep from losing the ranch's money.
37
3x11
Melody's Brother
Melody helps her brother with a drinking problem.
38
3x12
The Bad Seed
Buddy's life is turned upside down when he's put in charge of a young trouble-making guest at the ranch.
39
3x13
Stick Around
Lucy's old flame and his son Kyle visit the Bar None. After meeting Brad, Kyle decides he wants to stick around for the summer.
Publication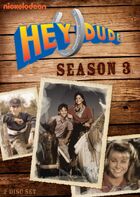 Season 3 was made available for download at the iTunes Store on November 29, 2011. For unknown reasons, episode 3x11 was missing. Appearantly, the master tape of this episode was lost or damaged.
On June 19, 2012, season 3 was released on DVD by Shout! Factory with the title Hey Dude - Season 3. The DVD release also includes episode 3x11 which was mastered from a video copy made from the original airing of this episode on TV.[1]
References
↑ Notes on Melody's Brother at www.tv.com
External links