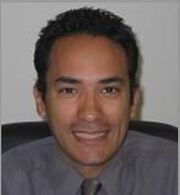 Joe Torres is an US American actor. In the Hey Dude TV series, he was a regular cast member and portrayed Danny Lightfoot.
Life and career
Almost nothing is known about the life and carreer of Joe Torres. He did not continue acting after the end of the TV series. Neither did he stay in contact with the other regular cast members.
In 2004, unconfirmed rumors arose that Joe Torres had died from liver disease. Other rumors identified him with a Toyota car salesman in South Jersey based on a photo (see above) available on the shop's website. Still other rumors said he was spotted at a Tavern in Tucson.
None of these rumors could be confirmed, and the current whereabouts of Joe Torres remain unknown. He was the only regular cast member of Hey Dude who was not present in any of the cast reunions that took place in 2014, the 25th annivereary of the show's start on TV.
References
↑ It is not clear whether this image of a of "Joe Torres" really shows the actor portraying Danny (cf. the thread Joe Torres - of "Hey Dude" Dead? (Danny the Indian) at pointguardu.com, especially post #15).
External links
Community content is available under
CC-BY-SA
unless otherwise noted.