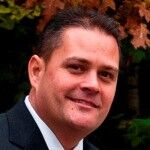 Geoffrey Coy is an US American actor. In the Hey Dude TV series, he was a regular cast member and portrayed Kyle Chandler.
Life and career
Geoffrey Coy was born in 1973 in Phoenix, Arizona. He joined the cast of Hey Dude at the end of season 3 and remained for the rest of the series. However, he did not continue acting after the end of the TV series, but got a Bachelor's degree in Business Administration at the Baylor University in in Waco, Texas.
Among others, Geoffrey Coy spent eight years in various sales roles with GlaxoSmithKline and six years as a regional sales director with Sepracor. In 2013, Coy was nominated National Sales Director of Omniflight Helicopters, Inc.[1]
References
External links