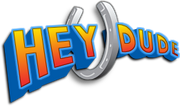 Hey Dude has five seasons, each comprising 13 episodes with a duration of about 25 minutes. This makes a total of 65 episodes and about 1625 minutes or 27 hours runtime.
Structure
Each episode starts with a short opening scene, which in most cases ends with a gag. Thereafter, the intro follows with the credits of the cast of the show, accompanied by the theme song. Thereafter, the story of the corresponding episode develops.
At the end of each episode, screenshots from some scenes of the episode are shown on which the end credits indicating guest stars and crew members of the episode are superimposed. The end credits are accompanied by an instrumental version of the theme song.
Overview
The following lists gives an overview over the titles of the episodes, their writer(s) and director(s) and their original air date on Nickelodeon. For a brief summary of the contents of the individual episodes see the article of the corresponding season.
Season 1 Episodes
No.
Title
Director(s)
Writer(s)
Original air date
1
1x01
Day One at the Bar None
Ross K. Bagwell, Jr.
Alan Goodman
July 14, 1989
2
1x02
Battle of the Sexes
Ross K. Bagwell, Jr.
Michael B. Kaplan
July 21, 1989
3
1x03
Goldilocks
Ross K. Bagwell, Jr.
Alan Goodman
July 28, 1989
4
1x04
Ted's Saddle
Frederick King Keller
Judy Spencer
August 4, 1989
5
1x05
The Competition
Ross K. Bagwell, Jr.
Graham Yost
August 11, 1989
6
1x06
Rehearsal for Romance
Frederick King Keller
Michael B. Kaplan
August 18, 1989
7
1x07
Perfect Father
Frederick King Keller
Graham Yost
August 25, 1989
8
1x08
The Good, the Bad, the Obnoxious
Frederick King Keller
Clifford Fagin
September 1, 1989
9
1x09
Rainmen
Ross K. Bagwell, Jr.
Mark Cerulli
September 8, 1989
10
1x10
Ted and Brad Get Handcuffed
Ross K. Bagwell, Jr.
Graham Yost
September 15, 1989
11
1x11
Suspicion
Frederick King Keller
Clifford Fagin
September 22, 1989
12
1x12
Employee of the Week
Ross K. Bagwell, Jr.
Alan Goodman
September 29, 1989
13
1x13
Pain in the Neck
Ross K. Bagwell, Jr.
Judy Spencer
October 6, 1989
Season 2 Episodes
No.
Title
Director(s)
Writer(s)
Original air date
14
2x01
Loose Lips
Ross K. Bagwell, Jr.
Michael B. Kaplan
October 13, 1989
15
2x02
Battle of a Hundred Bucks
Frederick King Keller
Michael B. Kaplan
October 20, 1989
16
2x03
Our Little Champion
Ross K. Bagwell, Jr.
Judy Spencer
October 27, 1989
17
2x04
Bunkmate Battle
Frederick King Keller
Alan Goodman
November 3, 1989
18
2x05
Crash Landing
Ross K. Bagwell, Jr.
Graham Yost
November 10, 1989
19
2x06
Ghost Stories
Frederick King Keller
Graham Yost
November 17, 1989
20
2x07
Teacher's Pest
Ross K. Bagwell, Jr.
Clifford Fagin
December 1, 1989
21
2x08
Treasure Teens
Frederick King Keller
Alan Goodman
December 8, 1989
22
2x09
Dan the Man
Ross K. Bagwell, Jr.
Lisa Melamed
December 15, 1989
23
2x10
Superstar
Frederick King Keller
Clifford Fagin
January 5, 1990
24
2x11
Bar None Babysitter
Ross K. Bagwell, Jr.
Judy Spencer
January 12, 1990
25
2x12
Cowboy Ernst
Frederick King Keller
Dean Young
January 19, 1990
26
2x13
Take Me to Your Leader
Ross K. Bagwell, Jr.
David A. Litteral
January 26, 1990
Season 3 Episodes
No.
Title
Director(s)
Writer(s)
Original air date
27
3x01
Inmates Run the Asylum
Ross K. Bagwell, Jr.
Graham Yost
April 6, 1990
28
3x02
Hey Cinderella
Ross K. Bagwell, Jr.
Judy Spencer
April 13, 1990
29
3x03
Datenite
Frederick King Keller
Clifford Fagin
April 20, 1990
30
3x04
New Kid on the Block
Frederick King Keller
Steve Roth, Deanne Roth
April 27, 1990
31
3x05
Sewn at the Hip
Ross K. Bagwell, Jr.
Lisa Melamed
May 4, 1990
32
3x06
Superstition
Frederick King Keller
Graham Yost
May 11, 1990
33
3x07
Dueling Ranches
Ross K. Bagwell, Jr.
Mark Cerulli
May 18, 1990
34
3x08
Ex-Static
Frederick King Keller
Lisa Melamed
May 25, 1990
35
3x09
No More Mr. Nice Guy
Frederick King Keller
Judy Spencer
June 1, 1990
36
3x10
Killer Ernst
Ross K. Bagwell, Jr.
Mark Cerulli
June 8, 1990
37
3x11
Melody's Brother
Frederick King Keller
Judy Spencer
June 15, 1990
38
3x12
The Bad Seed
Frederick King Keller
Graham Yost
June 22, 1990
39
3x13
Stick Around
Frederick King Keller
Lisa Melamed
June 29, 1990
Season 4 Episodes
No.
Title
Director(s)
Writer(s)
Original air date
40
4x01
They're Back
Ross K. Bagwell, Jr.
Mark Cerulli
September 7, 1990
41
4x02
Ride, She Said
Frederick King Keller
Clifford Fagin
September 14, 1990
42
4x03
Magnum Ernst
Frederick King Keller
Clifford Fagin
September 21, 1990
43
4x04
Dudesbury
Frederick King Keller
Lisa Melamed
September 28, 1990
44
4x05
Fear
Ross K. Bagwell, Jr.
Graham Yost
October 5, 1990
45
4x06
Secret Admirer
Ross K. Bagwell, Jr.
Patrick Maguire
October 12, 1990
46
4x07
Lost in the Desert
Ross K. Bagwell, Jr.
Judy Spencer
October 19, 1990
47
4x08
Return of Ted
Ross K. Bagwell, Jr.
Graham Yost
October 26, 1990
48
4x09
Do the Right Thing
Frederick King Keller
Steve Roth, Deanne Roth
November 2, 1990
49
4x10
Doghouse Blues
Ross K. Bagwell, Jr.
Mark Cerulli
November 9, 1990
50
4x11
Some Like It Hot
Frederick King Keller
Steve Roth, Deanne Roth
November 16, 1990
51
4x12
Mr. Moneybags
Ross K. Bagwell, Jr.
Graham Yost
December 7, 1990
52
4x13
Murder, He Wrote
Frederick King Keller
Patrick Maguire
December 14, 1990
Season 5 Episodes
No.
Title
Director(s)
Writer(s)
Original air date
56
5x04
Miss Tucson
Frederick King Keller
Lisa Melamed
June 7, 1991
54
5x02
The Legend of Jed
Ross K. Bagwell, Jr.
Paul Budra
June 14, 1991
55
5x03
Incredible Shrinking Ted
Ross K. Bagwell, Jr.
Patrick Maguire
June 21, 1991
56
5x04
Rest in Pieces
Ross K. Bagwell, Jr.
Laura Innes, David Brisbin
June 28, 1991
57
5x05
Baby
Frederick King Keller
Clifford Fagin
July 5, 1991
58
5x06
Jealous Guy
Ross K. Bagwell, Jr.
Graham Yost
July 12, 1991
59
5x07
Amnesia
Frederick King Keller
Paul Budra
July 19, 1991
60
5x08
Presumed Stupid
Ross K. Bagwell, Jr.
Judy Spencer
July 26, 1991
61
5x09
Crush
Frederick King Keller
Lisa Melamed
August 2, 1991
62
5x10
Low Budget Brad
Ross K. Bagwell, Jr.
Lisa Melamed
August 9, 1991
63
5x11
Jake's Fight
Ross K. Bagwell, Jr.
Judy Spencer
August 16, 1991
64
5x12
Double Date
Frederick King Keller
Stephen Land
August 23, 1991
65
5x13
War
Frederick King Keller
Graham Yost
August 30, 1991
Videos
External links